Understanding Social Security Itemized Statement of Earnings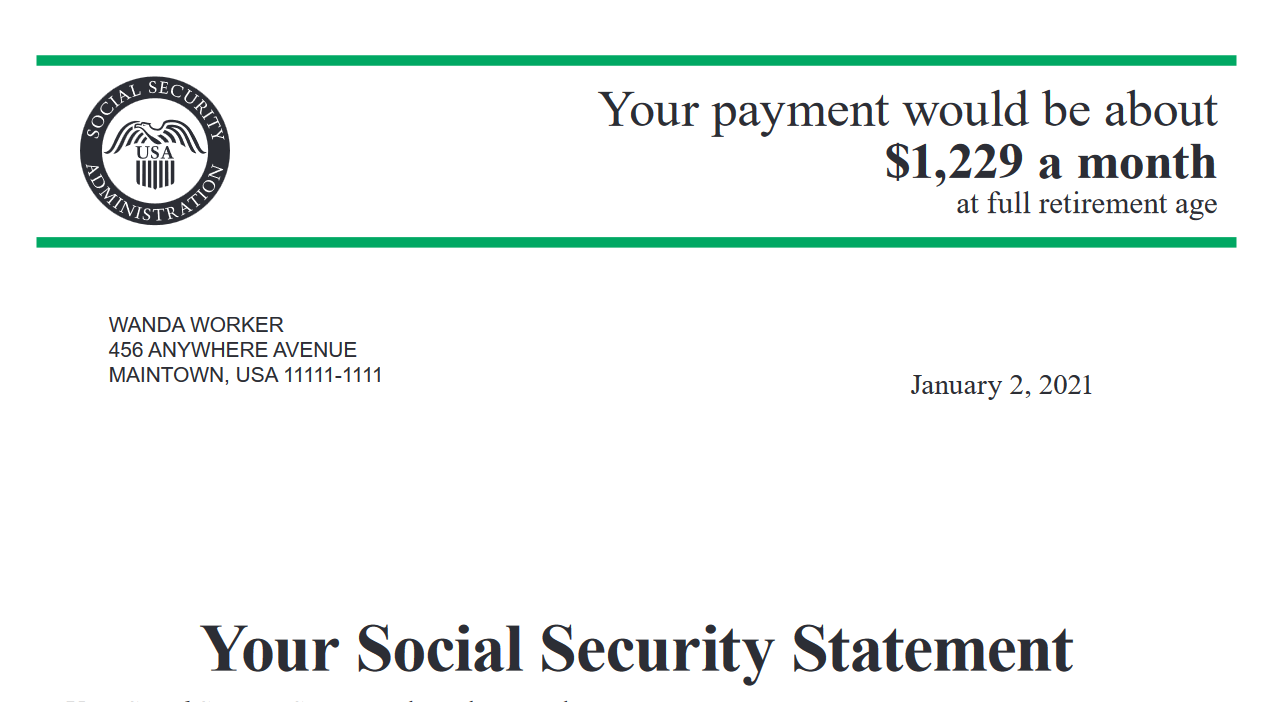 What Is the Social Security Administration?
The Social Security Administration (SSA) is an independent government agency that administers Social Security. It is an insurance program that consists of retirement, disability and survivor benefits. In order to qualify for these benefits most workers pay into the system through Social Security taxes.
The head offices of the Social Security agency are located in Woodlawn, Maryland and are referred to as the Central Office. There are tens of thousands of workers employed by the Social Security Agency and it is the largest government program in the United States.
It is estimated that by the end of the 2022 fiscal year the agency will have paid out $1.2 trillion in benefits to 66 million citizens and legal residents of the United States. An additional $61 billion is expected in SSI benefits and $7.5 million to low-income individuals.
This government agency is a vital part of the country's economy and without it millions of already struggling Americans would have nothing. It is a program that many have paid into for decades in preparation for retirement and as an insurance policy against sudden disability.
History of the Social Security Agency
On August 14th 1935, President Franklin D. Roosevelt signed the Social Security Act into law as part of his New Deal initiative. This led to the creation of the Social Security Board (SSB), a presidentially appointed group of three executives tasked with overseeing the Social Security program.
With zero budget, staff or even furniture the SSB finally obtained funding from the Federal Emergency Relief Administration. It was on October 14th 1936 that the first Social Security office opened its doors in Austin, Texas.
In January of 1937 Social Security taxes were first collected. Just a few years later the first Social Security check was issued to Ida Mary Fuller of Battleboro, Vermont. Ida's check was dated January 31st 1940 and she received $22.54.
The SSB in 1939 merged with the U.S. Public Health Service, the Civilian Conservation Corp and other government agencies to become the Federal Security Agency. In 1846 under President Harry S. Truman the SSB was named the Social Security Administration SSA.
In 1953 the Federal Security Agency was dismantled and the SSA was placed under the banner of the Department of Health, Education and Welfare. Finally in 1994 President Bill Clinton made the Social Security Administration an independent body once again.
What Can You Do With Social Security Online?
In person Social Security offices can be very busy and often stressful places to visit. As such with the world becoming more digital there is an increasing amount that can be done online.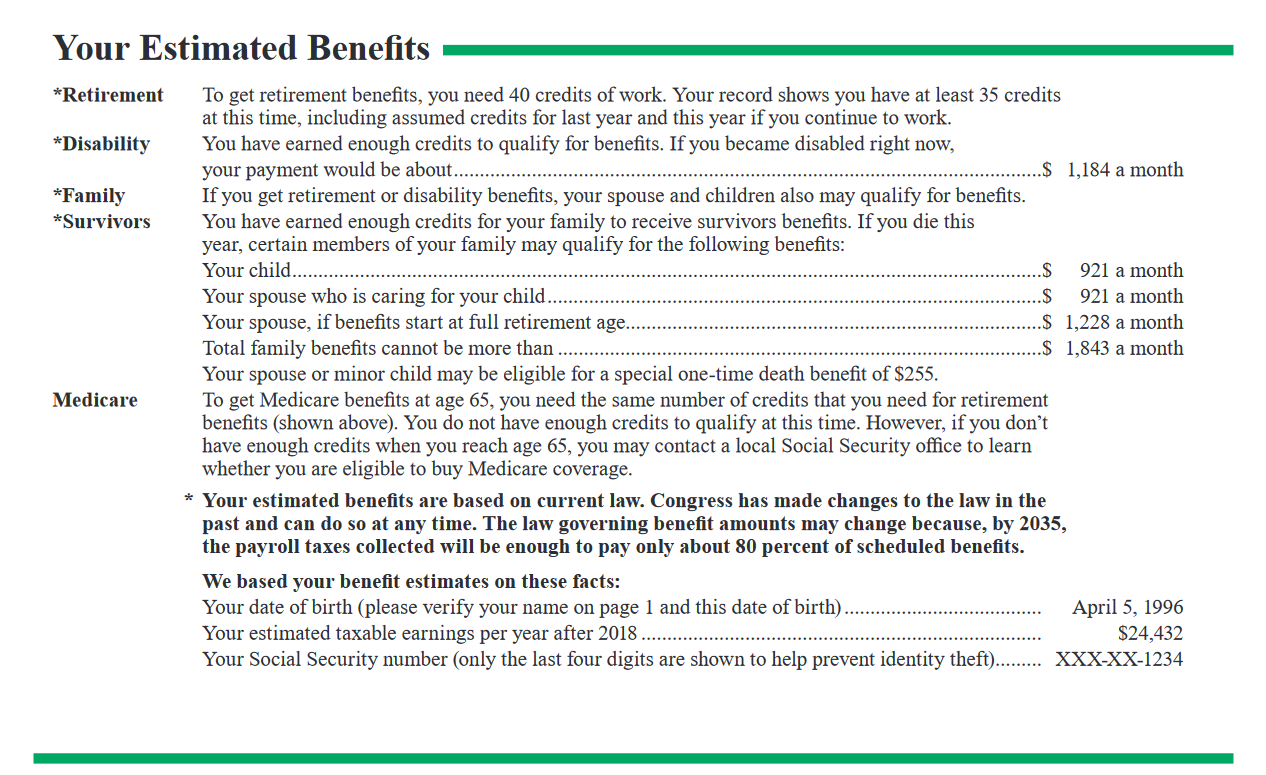 Choosing to do certain things related to Social Security online can be quicker and far less stressful. There are still many things you have to do in person but there are some simpler tasks that can be done online. Some things may start online but require you to mail in documents to complete the process.
Online you can:
Review your account
Apply for benefits
Make changes to your account
Request replacement cards
Get benefit estimates
Print proof of benefits
Request a statement of earnings
Check status of any applications pending
Set up or change direct deposit information
Change Address details
What Is a Social Security Statement of Earnings?
As the name might suggest, a Social Security statement of earnings is just that, it is a statement of the taxable earnings that have been reported to the SSA throughout your working life, It reflects what you have earned, how much you have paid into the Social Security system and also your potential future benefits.
Why Is the Statement of Earnings Important?
If retirement is looming large in your life or if you may be facing a life changing disability it is important to know what help if any you might be able to rely on in the future. The statement of earnings from Social Security literally holds the answer to this question.
There are minimum requirements of Social Security contributions that must be met to qualify for certain benefits such as retirement and Social Security Disability Insurance. If you have been paying into the system for decades you will likely qualify but for how much? The answer to that can be found in the statement of earnings.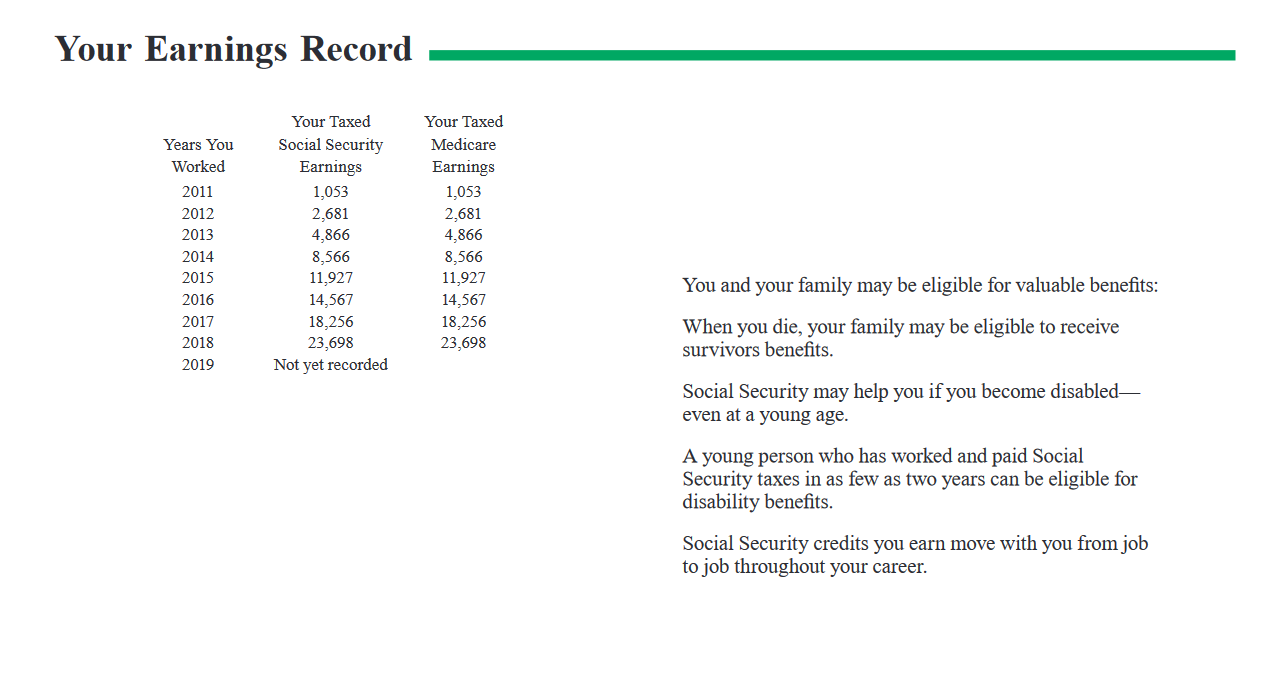 Understanding where you stand in terms of future benefits gives you a chance to try and boost your prospective benefits by taking on more work or deciding to wait until full retirement age before claiming.
What Can a Social Security Statement of Earnings Tell You?
There are some very important aspects of the statement of earnings, some of which have only been part of it since 2021.
Information relating to your potential future income for retirement, disability and survivors' benefits
How much you might earn each month from benefits depending on what age between 62 – 67 you choose to retire (retiring early permanently decreases your benefit amount)
Information relating to when you might qualify for Medicare
A statement of all your taxed earnings that were paid into the Social Security system
Details of earnings that were not covered by Social Security
You will also find handy links to take you to applications for various Social Security Benefits
How Do You Get a Social Security Statement?
If you have not done so already, sign up for a Social Security account at ssa.gov/myaccount. Using this very user friendly personal account with the Social Security Administration you can easily find your statement of earnings and access it whenever you need.
It is advised that you check in on your statement progress regularly to make sure that the information contained within is accurate. This is because sometimes an employer might not have correctly reported your information to the administration.
Is the Statement Complicated?
Honestly the Social Security statement is not at all difficult to understand for the most part it is made up of informative information and tips to maximize your potential benefits. Your earnings history is displayed in a simple three column table that reflects the year, the amount you paid in Social Security taxes and the amount you paid in Medicare taxes.
Estimated benefits has its own page upon which you will see how many credits you have earned toward retirement and disability and what your potential benefit payments sit at as of the date of viewing. If you check this at the age of 26 you probably will find you have not accrued enough credits for retirement yet but perhaps have made enough for disability.
This statement is very uncomplicated and the Social Security Administration has already done all of their calculations to give you a fairly accurate idea of what your benefits would be were you eligible for them right now. Laws and amounts can change through acts of congress however so this should always be borne in mind.
Final Thoughts
It doesn't matter how young you are, there is no harm in signing up for an online Social Security account and accessing your statement of earnings. Keeping track of how your contributions are progressing can help you make decisions about your working life.
Reference SSA Locator
If you use any of the forms, definitions, or data shown on SSA Locator, please make sure to link or reference us using the tool below. Thanks!
<a href="https://ssalocator.com/blog/understanding-social-security-itemized-statement-of-earnings/">Understanding Social Security Itemized Statement of Earnings</a>

"Understanding Social Security Itemized Statement of Earnings". SSA Locator. Accessed on December 7, 2023. https://ssalocator.com/blog/understanding-social-security-itemized-statement-of-earnings/.

"Understanding Social Security Itemized Statement of Earnings". SSA Locator, https://ssalocator.com/blog/understanding-social-security-itemized-statement-of-earnings/. Accessed 7 December, 2023

Understanding Social Security Itemized Statement of Earnings. SSA Locator. Retrieved from https://ssalocator.com/blog/understanding-social-security-itemized-statement-of-earnings/.